THE REVEREND ROBERT DERRENBACKER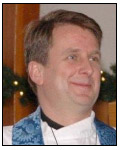 Fr. Bob currently serves as the President and Provost at Thornloe Univiersity, as well as the Chaplain of St. Mark's Chapel at Laurentian University. A New Testament scholar by training, Fr. Bob has written a book and a number of essays, articles and reviews on the New Testament Gospels and the letters of St. Paul. Prior to his coming to Sudbury, Fr. Bob was Associate Professor of New Testament at Regent College in Vancouver. He was ordained Deacon in 2001, then Priest in 2002, in the Diocese of Toronto. Fr. Bob was installed as Honourary Associate at the Church of the Ascension Sudbury on December 6th 2009.
Fr. Bob's interests include downhill skiing, biking, travel, Mac computers and U2. He is married to Cindy, and they have two children Chloe and Jack.
---
THE REVEREND RHONDA HIRST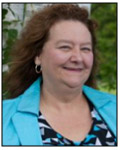 Rhonda grew up in Stoney Creek which is just outside of Hamilton, Ontario. Rhonda attended Saltfleet High School and then attended Brock University, where she graduated with a B.A. in Child Studies. Following her graduation from Brock, Rhonda worked for the Catholic Children's Aid Society as a Special Needs Worker. Her employment as a Special Needs Worker, lead to her working as a Developmental Specialist for the Hamilton School Board. Rhonda worked for 3 years for the Hamilton School Board and continued to be actively involved in many of the church's ministries within her home parish. Rhonda eventually felt a call to combine her love of children with her love of God and entered Huron College, London, Ontario, in September of 1988, to pursue a Master of Divinity Degree and to work towards Ordination in the Diocese of Niagara.
In 1991, Rhonda was ordained as a Deacon for the Diocese of Niagara and in 1992 was ordained to the Priesthood in the Diocese of Niagara. During her time with the Diocese, Rhonda served parishes in Grimsby, Welland, Port Robinson and St. Catharines. In 2002, Rhonda made the move to Manitoulin Island to take a 3 month contract position, for the parish of Western Manitoulin. The contract was extended for another 3 months and then Rhonda was offered the position of Rector of the combined parishes of Little Current, Massey, Sheguindah, Sucker Creek and Sagamok.
In 2004, Rhonda felt a call to pursue a career in Hospital Chaplaincy (something she felt gifted for after completing a Clinical Pastoral Education Unit at Kitchener-Waterloo Hospital as part of her Master of Divinity Training) and became employed with St. Joseph's Health Centre, Sudbury, as a Hospital Chaplain. Today, Rhonda continues as a Hospital Chaplain with Health Sciences North and in June 2015, Rhonda was appointed Lead Chaplain for the Health Sciences North Spiritual and Religious Care Department.
Rhonda in her spare time loves to read, cook, bake and spend time with whatever furry friend is blessing her life at the time.
---
ERMA HOWE, LAY READER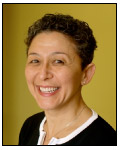 Erma has been a Lay Reader since 2010. With her husband, Michael, they moved to Sudbury in 1995 and joined the Ascension shortly after.
Previously, she had been active in children's ministry. Her church activities include being a warden, lay delegate, visioning and music ministry. In the deanery, she is a member of the assesment team and active in the Cursillo movement. Erma is a psychotherapist in private practice.
---
DAVID FOWLER, LAY READER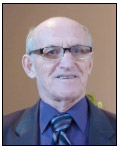 Dave has functioned as a server, vestry board member, Eucharistic assistant, licensed for home, hospital, and nursing home communions for an all inclusive period totalling approximately seventy years. During this time he has held every church vestry board position, having served on many different committees, chaired board meetings and has been on many concurrence committees. Also he has been on a select group to plan the closing of a church, and was chair of this group to draft and submit to the Diocese a parish request for the disposition of the parish finance, which incidentally was accepted by the Diocese in its entirety.
He has been Bishop's chaplain for a total of five different Bishops namely Wright, Nock, Peterson, Ferris and Andrews. In addition he and his spouse Noella have done volunteer work at Camp Manitou. He has also cooked and served many turkey and roast beef suppers at several different churches and also for the Out of the Cold program.
Dave has been a licensed Lay Reader at both the Church of the Resurrection, and the Church of the Ascension serving at the latter for the past eight years under the direction of Archdeacon The Venerable Anne Germond.
---
SHANNON HENGEN, LAY READER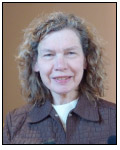 "Walk humbly with your God." (Micah 6:8)
Shannon grew up in a prayerful Saskatchewan family whose faith was at the centre of their lives. She is currently participating in Year One of the Ontario Jubilee Program in spiritual formation and spiritual direction.
Church of the Ascension welcomed Shannon and her husband Karl as parishioners in December of 2005. They have appreciated watching the parish continue to grow and thrive since then, and they look forward to taking part in its ongoing mission. With parishioner Irene Gilchrist, she has visited a L'Arche home in Sudbury for the past several years. She has also served meals at Out of the Cold dinners hosted by Church of the Ascension. In 2012 Shannon was deeply honoured to be asked to offer Morning Prayer services on several occasions at Pioneer Manor nursing home in Sudbury.