THE REV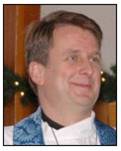 EREND BOB DERRENBACKER
The Interim Rector of the Ascension is the Reverend Robert Derrenbacker who is known to the congregation as Father Bob.
Fr. Bob currently serves as the President and Provost at Thornloe Univiersity, as well as the Chaplain of St. Mark's Chapel at Laurentian University. A New Testament scholar by training, Fr. Bob has written a book and a number of essays, articles and reviews on the New Testament Gospels and the letters of St. Paul. Prior to his coming to Sudbury, Fr. Bob was Associate Professor of New Testament at Regent College in Vancouver. He was ordained Deacon in 2001, then Priest in 2002, in the Diocese of Toronto. Fr. Bob was installed as Honourary Associate at the Church of the Ascension Sudbury on December 6th 2009.
Fr. Bob's interests include downhill skiing, biking, travel, Mac computers and U2. He is married to Cindy, and they have two children Chloe and Jack.
---
THE REVEREND RHONDA HIRST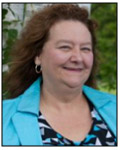 Rhonda grew up in Stoney Creek which is just outside of Hamilton, Ontario. Rhonda attended Saltfleet High School and then attended Brock University, where she graduated with a B.A. in Child Studies. Following her graduation from Brock, Rhonda worked for the Catholic Children's Aid Society as a Special Needs Worker. Her employment as a Special Needs Worker, lead to her working as a Developmental Specialist for the Hamilton School Board. Rhonda worked for 3 years for the Hamilton School Board and continued to be actively involved in many of the church's ministries within her home parish. Rhonda eventually felt a call to combine her love of children with her love of God and entered Huron College, London, Ontario, in September of 1988, to pursue a Master of Divinity Degree and to work towards Ordination in the Diocese of Niagara.
In 1991, Rhonda was ordained as a Deacon for the Diocese of Niagara and in 1992 was ordained to the Priesthood in the Diocese of Niagara. During her time with the Diocese, Rhonda served parishes in Grimsby, Welland, Port Robinson and St. Catharines. In 2002, Rhonda made the move to Manitoulin Island to take a 3 month contract position, for the parish of Western Manitoulin. The contract was extended for another 3 months and then Rhonda was offered the position of Rector of the combined parishes of Little Current, Massey, Sheguindah, Sucker Creek and Sagamok.
In 2004, Rhonda felt a call to pursue a career in Hospital Chaplaincy (something she felt gifted for after completing a Clinical Pastoral Education Unit at Kitchener-Waterloo Hospital as part of her Master of Divinity Training) and became employed with St. Joseph's Health Centre, Sudbury, as a Hospital Chaplain. Today, Rhonda continues as a Hospital Chaplain with Health Sciences North and in June 2015, Rhonda was appointed Lead Chaplain for the Health Sciences North Spiritual and Religious Care Department.
Rhonda in her spare time loves to read, cook, bake and spend time with whatever furry friend is blessing her life at the time.
---
THE REVEREND JEFF HOOPER