THE REV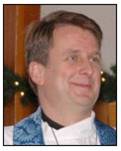 EREND BOB DERRENBACKER
The Interim Rector of the Ascension is the Reverend Robert Derrenbacker who is known to the congregation as Father Bob.
Fr. Bob currently serves as the President and Provost at Thornloe Univiersity, as well as the Chaplain of St. Mark's Chapel at Laurentian University. A New Testament scholar by training, Fr. Bob has written a book and a number of essays, articles and reviews on the New Testament Gospels and the letters of St. Paul. Prior to his coming to Sudbury, Fr. Bob was Associate Professor of New Testament at Regent College in Vancouver. He was ordained Deacon in 2001, then Priest in 2002, in the Diocese of Toronto. Fr. Bob was installed as Honourary Associate at the Church of the Ascension Sudbury on December 6th 2009.
Fr. Bob's interests include downhill skiing, biking, travel, Mac computers and U2. He is married to Cindy, and they have two children Chloe and Jack.
---
THE REVEREND JEFF HOOPER