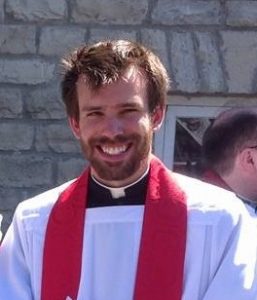 The Rector of the parish is Father Aidan Armstrong. Father Aidan was ordained a Deacon and Priest in 2016. Prior to coming to Sudbury, Father Aidan was the Incumbent of the Manitoulin Island parishes.  Father Aidan came to the Church of the Ascension in October 2017.
Father Aidan grew up in London Ontario and went to Huron College at the University of Western Ontario, this is where he first felt a call to the Priesthood and would a few years later graduate with a Bachelor of Theology. Father Aidan then attended Wycliffe College in Toronto earning a Masters of Divinity in Pioneer Ministry before moving to the Diocese of Algoma.
Father Aidan is married to Sarah and they have recently been blessed with a wonderful baby boy! He enjoys reading and the outdoors in his spare time.