This summer I had the immense pleasure and privilege of spending a week in Rome with other Anglicans from all around the Anglican Communion – New Zealand, Sri Lanka, South Africa, Nigeria, Canada, USA, and Pakistan to name a few. We'd signed up for the "Christian Leaders in the Church" course which was organized by the Anglican Centre in Rome and its Director the Rt. Rev. Sir David Moxon.
Our home for the week was the Domus Internationalis a magnificent residence for local clergy in the heart of downtown Rome. It had a rooftop courtyard with a stunning view of the city, and housed several chapels. The dining room had frescoes on the walls and ceiling wanting one to stay much longer and eat than was necessary. We learned that Pope Francis stayed at The Domus the night before the Papal Conclave and is said to have driven back there the day after he was elected to pay his visa bill.
Each of us on the course had different callings and ministries – some of us were ordained, others hoped to be one day, and many were lay people exploring their vocation as a Christian leader in their part of the Communion. As we gathered for our first meeting on a hot, muggy Sunday afternoon in early September, none of us were quite sure what to expect from the course, or from our time together, but our course leaders from New Zealand John Hornblow and his wife Jenny lead us most excellently.
It turned out to be way, way better than any one of us could have asked or imagined – way, way better in fact than the course outline described it. What the course leaders can't and don't factor in as they prepare a course like this are the unknown factors – the relationships that form between members of the group over the course of the week, and the way in which these of experiences transform a person's heart.
I was delighted to meet the wife of the Archbishop of South Africa, Mrs. Lungi Makgoba who was one of the participants. We have children of a similar age and although we raised them a continent apart, as mums we knew the same joys and struggles that any parent experiences. I also befriended a young primary school
teacher, and a hospital Chaplain from New Zealand. The young teacher had started a house church in her apartment so that the young adults could enjoy fellowship together.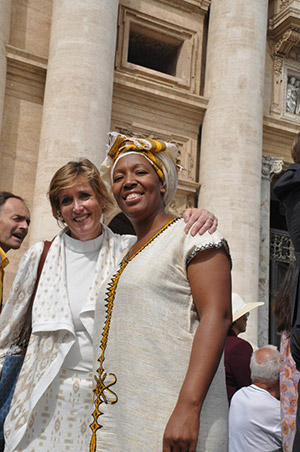 New friends: Mrs. Lungi Makgoba and me in St. Peter's Square following the Papal audience
The Bishop of Nigeria and I had some good conversations about women in ministry, and I learned from Rev. Nesa that having a four point charge is pretty commonplace in Sri Lanka. I came home with tea from one of the plantations in his parish.
And so it was, that as we prayed together, worshipped together, ate our meals together, shared our own very personal leadership experiences, and walked the cobbled streets of Rome and beyond, that we grew in the faith. In that one week we became a microcosm of a faith community. Every day took us on some new adventure of learning and deepening our understanding of some of the people, ancient and modern we'd come to Rome to study as 'cases', and of ourselves as Christian leaders.
One day we found ourselves in the Gesu Centre and Church where St. Ignatius of Loyola spent 14 years of his life. We spent time there in the chapel where he prayed and saw his old writing desk, as tiny as one of those old schoolroom desks, where he wrote over 7000 letters.
Another day found us waiting expectantly in the grounds of St. Peter's Square, along with 60,000 other people for the arrival of Pope Francis, our modern day 'case study'. There was a festive atmosphere in the crowd and Pope Francis has rock star status. When his Jeep appeared on the grounds of St. Peter's Square the sound of cheers was mind blowing. He took plenty of time to greet individuals in the crowd and even exchanged his 'zucchetto' (the little white hat he wears) for a moment with the baseball cap of one of the excited kids in the crowd.
Pope Francis is a humble man of God and spoke to us about the importance of family. His speech was translated into five languages so that those present could understand it. How we cheered when he got up from his chair and walked down to where the three Bishops in our group were standing, greeting them warmly and shaking their hands.